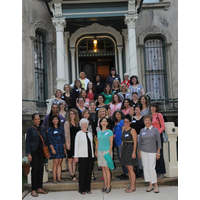 Wine, Women and Conversation. It all flowed at AWJ-Chicago's 2014 Member + Friends Picnic, July 24, which drew a rich mix of ages, media and academia. The women journalists came from all over Chicagoland from suburbs, the city—and as far as away Indiana—by car, bus, elevated train and on bikes. One neighborhood woman, a magazine editor, just walked over, having signed up for the picnic just to get a peek inside the mansion.
Held for the second year in the historic Keith House, a lovely old mansion in Chicago's Prairie Avenue district, the picnic was a big hit. While several of the women journos knew each other, if only by name or face, others knew no one—but that didn't last long, as people mingled, shared tips and networked for nearly three hours.
The main floor of the Keith House, with its Prairie Avenue Gallery, is managed by Marcy Baim as a lovely and unique venue for weddings and other special events. The Gallery was founded by the late Joy Darrow, noted photojournalist, early feminist and newspaper woman, who was the mother of Marcy and her sister, Tracy Baim. Tracy is an author, founder and editor-publisher of Windy City Media Group, and the newest AWJ-Chicago board member.
The next AWJ-Chicago program, tentatively set for September, focuses on podcasting—how to create your own podcast, and how to deal with the sometimes-hostile male-dominated environment.
- 30 -
Photo Caption: Many picnic-goes enjoy a beautiful summer evening while photographer Hal Baim snaps away.
---