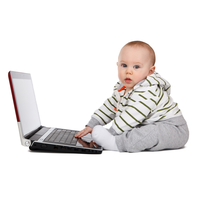 Parental leave is a critical benefit for workers planning to start a family, but it can feel risky to ask about it during a job interview.
The United States is one of only two nations in the world without paid parental leave. The 1993 Family and Medical Leave Act (FMLA) mandates 12 weeks of time off for workers who've completed a year or more at a company with at least 50 employees, but that time is unpaid. To afford to take time off following a birth or adoption, workers often rely on paid leave offered by their employers.
Yet many employees worry that asking about a company's parental leave policy during a job interview will diminish their appeal to potential employers. That can make women in particular reluctant to change jobs during the years they plan to have children, even for a better opportunity.
The Association for Women Journalists-Chicago is countering this dilemma by increasing the information available about parental leave policies at news outlets in the Chicago market. Download the chart below to see the total weeks of leave available at different shops, and how much you'll be paid during those weeks. The list is not exhaustive, but we believe it to be accurate and up-to-date as of September 2016. If you wish to add details about your own news organization's policy, or if you see an error that requires correction, please contact the association board at awjchicago@gmail.com. We hope this information will be useful to Chicago's journalists in the future.
---