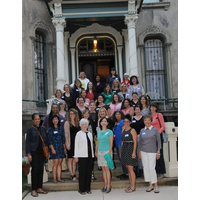 Application for 2015 Association for Women Journalists Intern/Scholarship
Award: $1,000 plus a one-year student membership to AWJ
APPLICATION DEADLINE: Dec. 11, 2015
The Association for Women Journalists in Chicago seeks an intern to help with the Young Critics program. AWJ would like to recognize the achievements of outstanding women journalism students (undergraduate or graduate) in the Chicago region. Students who have demonstrated an interest in issues important to women are especially encouraged to apply.
CRITERIA FOR THIS SCHOLARSHIP
YOU MUST MEET ALL OF THE FOLLOWING CONDITIONS:
You reside or attend college in the Chicago region.

You are currently enrolled as a full-time undergraduate or graduate journalism major concentrating in broadcast, newspaper, magazine, online, photography or graphics.

You are scheduled to graduate no earlier than May 2016.

You have a grade point average between 3.0 and 4.0.

You have good organization skills.

You have experience recording and editing audio.

You are capable of writing and updating the website.

You are prepared to work 100 hours (some Saturdays necessary) between January 2016 and May 2016.
HOW TO APPLY
You must submit the following:
Completed internship application

A resume no longer than one page

One letter of recommendation from a journalism faculty member

An unofficial copy of your college transcript

Essay of 500 words or fewer answering: "Why I want to be a journalist and the unique perspective I bring to the profession"

Short essay of 50 words or fewer addressing what you'll do with the internship money if you are selected as a recipient

Submit up to three clips in any form
CLIPS/WORK SAMPLES
Print stories: Please make copies of tear sheets or downloads from websites and attach to your application form.
TV packages: Please upload videos to YouTube and provide links to your work on the application form.
Radio packages: Please upload packages to mypodcast.com and submit links on application form.
Photos: Please upload JPEG photo selects to Flickr.com and create a "SET" entitled "AWJ Scholarship" and provide a link to the SET on the application form.
Slideshows/Websites/Flash Animation: Please submit link on the application form.
The intern chosen will be notified in January.
Completed application packages must be emailed to:
For more information, contact the AWJ board at [email protected].
Submitted materials will not be returned.
AWJ 2015 INTERNSHIP APPLICATION
Name:
[First Last]
Permanent address:
School year address:
Telephone:
[Please indicate whether the phone number you list is your home or cell phone.]
Email address:
Your anticipated graduation date:
[Month and Year]
Your major/concentration:
Name of college/university:
Credits earned to date:
GPA:
Internship or college media experience:
[Please type your answer here and/or attach a resume with relevant experiences.]
Honors:
[Please type your answer here and/ or attach a resume with relevant experiences.]
Journalism activities/clubs/organizations:
[Please list each activity on a separate line.]
Long Essay:
[Please describe in 500 words or fewer why you want to be a journalist and what unique perspective you bring to the profession.]
Short Essay:
[In 50 words or fewer describe what you plan to do with the internship money if you are selected as a recipient.]
CLIPS/WORK SAMPLE LINKS
Print stories:
---