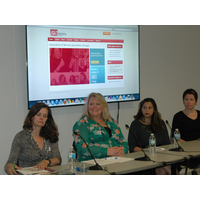 "Terrific program." "Several things I hadn't known." "Wow, the speakers were incredible, and gave me so many new business ideas." These are just few of the comments from veterans and neophyte freelancers alike after a targeted panel program organized by Association for Women Journalists-Chicago, May 28, at Columbia College Chicago.
"How to be a Freelancer and Still Pay the Rent" was co-sponsored by the American Society of Journalists and Authors.
Four prominent Chicago-based freelancers—Kate Silver, freelance journalist and writer for a broad array of markets; Kelly James-Enger, freelance writer and author of several books including "Six-Figure Freelancing: The Writer's Guide to Making More Money"; Megy Karydes, writer, marketer and media consultant; and Lisa Davis, who writes about travel, health and pets for traditional media and corporate clients—shared tips and advice on expanding into new client markets.
Moderator Judith Nemes, who writes for USA Today, Chicago Tribune, Crain's Chicago Business and others, added her own insights as she guided a valuable session for more than 35 attendees. And the buzz, which started during pre-program socializing, got livelier still as panelists and guests chatted after the formal presentations.
---