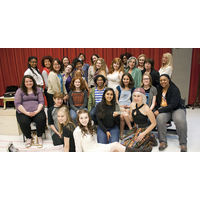 For 10th and 11th grade girls in Chicago and the suburbs-
Offered completely FREE to young women in the 10th and 11th grade throughout Chicago and the suburbs, this joint venture between Goodman Theatre and the Association for Women Journalists – Chicago introduces young women to theater criticism and the world of professional writing. Participants will receive tickets to productions in the Goodman's 2015/2016 Season, one-on-one mentoring from professional journalists and have the opportunity to interview artists associated with Goodman Theatre productions!
Click here to download an application for the 2015/16 school year. All applicable dates and deadlines included within.
Questions? We're happy to help! Contact the Goodman's Education Department at 312.553.7161 or email CBYC@GoodmanTheatre.org.
Interested in learning more about the Cindy Bandle Young Critics? Attend our informational workshop on Sunday, October 4!
And click here for more information about the program.
AWJ Members interested in becoming mentors should contact Cheryl Corley at ccorley@npr.org . Please put Young Critics in the subject line. An orientation session for mentors will be held at the Goodman Theatre on Saturday, October 3.
---