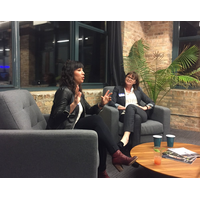 Don't opt yourself out and do stay open to opportunities, said ProPublica Illinois Editor-in-Chief Louise Kiernan to about 50 attendees at the Association for Women Journalists-Chicago's annual meeting Feb. 21.
The evening began with networking and a signature cocktail, The Fourth Estate. Ingredients included vodka "for strength and transparency," grapefruit juice "because truth can be bitter" and club soda "because truth always bubbles up."
Members also wrote down why journalism mattered to them and shared it on social media, with responses like "because it makes the world a smaller, smarter place" and "because it speaks truth to power."
President Amy Guth opened the evening by noting it is an important time to get together as journalists. "One thing that's really important is that we have each other's back," she said.
In a thoughtful and wide-ranging conversation on the future of journalism and advice now for journalists, AWJ board member Kim Bellware interviewed Kiernan about her own career and future goals.
She talked about when a story is ready – when you feel you know as much or more than perceived experts, or if it's more of a personal story, then when you can't hold it inside anymore.
For journalists hoping to build their career or invest in something they're interested in, she suggested starting small. For example, maybe you can't take a year off, but take 30 minutes at the beginning of each day to dig into a story.
And noting it was her one-year anniversary with ProPublica, she said to be open to new opportunities.
She spoke about how at ProPublica, they're thinking bigger about what engagement means, and how it can mean more than social media. For example, in a series about property taxes, they wrote letters to people impacted and included the story, inviting them to an event.
"All the engagement in the world doesn't mean anything if there's nothing to engage with," Kiernan said.
---