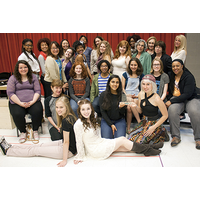 The 2015 James Friend Memorial Award for Literary Criticism was presented to the Cindy Bandle Young Critics—a program that is a collaboration of the Goodman Theatre and the Association for Women Journalists Chicago.
The presentation took place at the 100th anniversary of the Society of Midland Authors. The co-creators of the program, the Goodman Theatre's Director of Education Willa Taylor and Cheryl Corley, a board member of the Association for Women Journalists and the lead mentor of the Young Critics — received the award along with two of our 21 Young Critics, Nia Ali-Valentine, a student at Chicago's Jones College Prep, and Mairead DeWitt, a student at Oak Forest High School.
The Young Critics were in good company—the 2014 winner was the Chicago Tribune's Chris Jones, and the 2013 winner was Jonathan Messinger—former Time Out Chicago books editor.
---