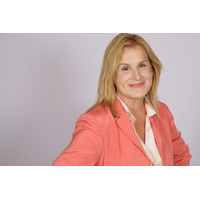 Michele Weldon has pretty nearly done it all—written five books, taught journalism classes for nearly 20 years at Northwestern University's Medill School (where she helped configure the curriculum), led Writing to Save Your Life workshops and directed programming for the Illinois Humanities Council.
Her latest book, out Sept. 1, is the memoir "Escape Points," about raising her three sons alone while also battling cancer and the shadow of her ex-husband.
She now uses her many talents writing about two op-eds a month, speaking, leading writing workshops and consulting. She talked to AWJ right before she headed to a roller derby class and embarked on a book tour. (Interview has been condensed.)
You're always juggling a million things. What is life like these days?
I am a senior leader with the OpEd Project, and I have been doing that for five years and recently expanded my role there, doing more work for them. I direct Northwestern Public Voices with the OpEd Project, which is going into its fourth year. I mentor [fellows] for a year and guide them to publish op-eds, give talks, give TED talks, really help them spread their expertise and thought leadership through as many platforms as possible. So that's really fun.
And your book tour must be starting soon. What does that entail?
I forgot how much time and energy a book launch takes. My last book was in 2008. But it's fun. I'm booked from now to December. I have a couple of dozen events and signings around Chicago but also in Milwaukee and L.A. and New York and Iowa City.
This is your fifth book. How did the idea for this come about?
I've been a journalist for three decades, but a big aspect of my work is personal essays and opinion pieces, which is really what I've concentrated on the last 15 or 20 years.
I started working on this book in 2005 because my oldest son was a youth wrestler in high school, and it was a strange world. I felt like Jane Goodall, watching primates. Every weekend I would be in the gym for 10 hours and there could be 3,000 people there. All day long, and it's super intense. So I started writing about wrestling and thinking it'd be a wrestling-mom book. And then I got cancer in 2006, and I thought, 'Well this is an interesting piece of that.' So I started writing about that, and then it got to be more and more dramatic with their father, who I've been divorced from since 1996. But he disappeared completely from their lives, so it became this theme of escape and presence. [The title, "Escape Points," refers to when] you earn points in wrestling for getting out of a hold. So that seemed like there were points of escape, for their father, and also I escaped a worse diagnosis, and of course it's a literal metaphor for what they did in wrestling. It all started coming together.
Do you find it natural to write during difficult times, or did you have to push yourself toward these topics?
I have been a clear advocate for writing as catharsis as far as cognitively, to understand your life situation and to take control of it. I also give workshops, and then I've done some research in that area as far as the literal physical effects of writing on physical ailments and high blood pressure and all of that. It's not like writing is always rescue from something terrible, it also can be celebration. I do find that thoughtfully and intentionally trying to articulate an event or a feeling or a phase—that really helps me organize my life.
You write for publications as varied as Cosmopolitan to Time. How do you tailor for each one?
The work that I do with the OpEd Project, there's some weeks where I'm pitching 20 different experts on their op-eds, so I kind of have a running roster of what editors are looking for what, when. And I do have a sense of a style of each piece, and I deal with hundreds of editors, I kind of in the back of my mind know what they're looking for. It doesn't always work. You do have to be mindful of the style and tone, but once you have the bones down to something, you can pretty much adapt to the style of an outlet. And they edit you. If it doesn't fit, they won't take it or they'll make you fix it.
You helped redesign Medill's journalism school. Any tips for keeping an eye out for what might be the next new thing in journalism?
I think quality will always be in style, and great reporting. I just read a thing today about [how] snackable content is no longer the fad, it's longer-form journalism. There are these two trends happening for about 100 years. There was long-form narrative journalism at the turn of the century, alongside these glaring headlines, and yellow journalism then developed and everything was short. There always have been the parallel trends of long-form journalism and quick bites of information. It's just the delivery modes that keep changing. That sense of urgency and immediacy is a dominant force, but it's not the dominant force. People still want to sit down and read something of length and excellence that transports them. And I think if you choose one path, you can always jump to another and keep nimble in your adaptation to a lot of different forms.
Any journalist who maintains accuracy and integrity and a standard of excellence will always do well, no matter what. Keep learning new skills, but if that's at your core, you're always employable, publishable and usable. And even if you turn your journalistic training into writing speeches or writing brochures or writing information for a nonprofit, it's all really valuable to be able to gather information from a number of sources, create it into something that's palatable and interesting and compelling, no matter what platform.
Advice for young journalists? What you just said might wrap into that.
Not to take any rejection personally. I got rejected an hour ago by The Guardian on something that I've worked on for a few days, an op-ed that I really was thinking was kind of hot, and then 30 minutes after that I got a great review [for "Escape Points," a starred review in Booklist for the American Library Association]. Just don't take any criticism or rejection personally. It isn't always about the quality of your work. And just keep trying to keep getting better. I'm always trying to keep getting better.
---