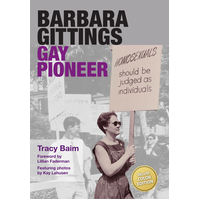 Award-winning journalist and AWJ-Chicago board member Tracy Baim has just published her 11th book on LGBT history, "Barbara Gittings: Gay Pioneer." It's the first full-length biography of a woman who has been called the mother of the gay-rights movement. More than 270 photos, documenting many of the movements biggest actions during the 1960s, were contributed by Gittings' life partner Kay Lahusen.
"As Baim shows, more than any lesbian leader of the 20th century, Gittings kept her eyes sharply focused on the prize of civil rights for gay people," writers Lillian Faderman, an award winner writer herself.
The new book is available in full color ($44.95) and black and white ($25) in print at Women & Children First bookstore, Chicago, and on Amazon.com. As of July 15, it will be available on Kindle.
---