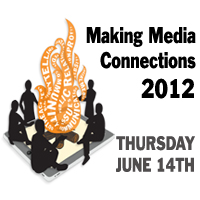 The Association for Women Journalists is a community partner supporting Community Media Workshop's annual "Making Media Connections" conference.

One of the Workshop's key events each year since 1993, the conference is designed for nonprofit communicators: volunteers and staff who are responsible for telling their group's story through the news media or other channels. The conference brings them together with journalists looking for stories 'off the beaten path' and invites them to join in a dialogue on how to produce news that matters.

The 2012 conference will be held on Thursday, June 14 at Columbia College Chicago's Film Row Cinema with special keynote speaker Bryan Breckenridge of LinkedIn.

AWJ members and friends of AWJ may receive a 20 percent discount by registering with code AWJMMC2012.

Conference attendees will get four key takeaways:

Training to increase nonprofit communicators' skills and understanding of the news process, allowing them to better access the media in ways that are effective.
Sourcing: journalists get leads and sources from a group that tends to receive "spot" coverage rather than more focused and influential treatment.
Skill-building: connecting these two groups with web advocates and nonprofit technologists in order to develop a better understanding of new media to deliver their message.
Relationship-building: the conference builds relationships between nonprofit and news outlet personnel. Beyond more and better coverage of nonprofits, their constituents and their issues, the outcome of the conference has been understanding and consensus on where nonprofits fit in the news cycle.

>> For more information about the "Making Media Connections" conference or to register, visit Community Media Workshop's website.

>> See who's speaking at the 2012 "Making Media Connections" conference here.


Follow Community Media Workshop on Twitter for news and updates:
@npcommunicator
Follow along with the conference on Twitter June 14 using hashtag:
#mmc2012
---