AWJ 2017 Annual Membership Picnic
AWJ-Chicago Annual Picnic on Chicago's Historic Prairie Avenue
You may recall that we celebrated AWJ-Chicago's 20th anniversary at this great venue in 2013. We're excited to return to this beautiful space again this year!
This space - The Keith House - is courtesy of Marcy Baim, proprietor, and her sister, Tracy Baim, AWJ member, author, editor and publisher at Windy City Media Group, who invited us to their historic Chicago mansion to honor their late mother, Joy Darrow, a noted photojournalist and early feminist.
Joy Darrow worked for decades in Chicago journalism, including for the Chicago Tribune in the 1960s and the Chicago Defender in the 1970s–1990s. She also freelanced for a wide range of publications, and traveled around the world to document human rights issues. Countries she reported from included South Africa during the country's first free elections post-Apartheid; Cuba before and after the revolution; Haiti; India; China; Laos; and dozens more.
Darrow and her husband, Steve Pratt, a food editor at the Chicago Tribune, purchased The Keith House from architect William Hasbrouck, who had saved the property a few years earlier. Darrow created the Prairie Avenue Gallery in their home in the 1980s, hosting exhibits on AIDS, Chicago African-American photographers, up-and-coming artists and much more.
After their mother died in 1996, Marcy and Tracy continued the Keith House tradition of art shows and community gatherings. The family started the Joy Darrow Memorial Scholarship for AWJ to help fund several journalism students.
*** We're happy to bring back our Summer Picnic Membership Special! ***

You can renew or join AWJ at the picnic and get this special deal: For $75, your membership won't expire until January 2019!

Want to take advantage of this special offer? Email Amy at theamyguth@gmail.com. Then show up at the picnic with a check or cash for the membership fee.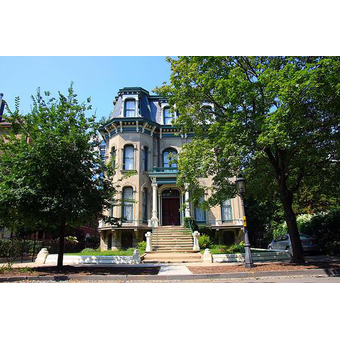 1900 South Prairie Avenue, Chicago, IL 60616, USA