Cindy Bandle Young Critics Ends Season 9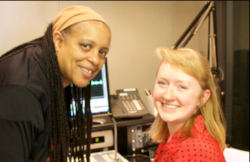 By Lauren Tussey (pictured here with Cheryl Corley)
The "Cindy Bandle Young Critics," the collaborative effort of the Association for Women Journalists-Chicago and the Goodman Theatre, is entering a milestone 10th season!  The program shows high school sophomore and junior girls the ways of writing theater criticism. For two hours on Saturdays during Season 9, the Young Critics attended several Goodman productions, wrote critiques for each show, participated in various group activities and edited their work with their paired mentors. This past season's lineup of mentors included Nancy Day, Carla K. Johnson, Kerry Reid, Susy Schultz, Catey Sullivan, Norma Fay Green, Chloe Riley, Loy Webb and Cheryl Corley.
Just as any program evolves and changes over the years, CBYC co-founder Cheryl Corley says the program has been simultaneously expanding while simultaneously keeping its core mission:  engaging young ladies in their critical thinking, sharpening those critical thinking skills, teaching to improve writing and presenting new things about theater and journalism.
Corley and Willa Taylor—the Goodman Theatre's Director of Education and Engagement—created CBYC after an AWJ-hosted panel that asked the question, "Why are there no female critics?" Taylor says she and Corley were looking to do a gender-specific program for a while before coming up with the idea of CBYC being aimed at high school girls.
 "It has become really one of the standard programs in our repertoire," Taylor says. "The one thing that has been interesting is how other places and other theaters have used the [CBYC] program really as an example program in [what] they can do for young women."
 This past season, the Young Critics took part in many bonding exercises led by Brandi Lee, Education Associate and Intern Coordinator at the Goodman. Lee's energy-fueled activities helped the girls come together as a group, hear each other's voices, listen respectfully and think critically about important issues. When she was a student, Lee participated in almost every program offered at the Goodman, but this year was her first time experiencing and partaking in CBYC.
"It really just gave me a drive to figure out how to make [the program] even more accessible to [students] and how to make it even better and how to get that to as many young women as possible," Lee says. "[The girls] loved having a place to be on Saturdays together with a group of amazing young people who really listen and really take each other in."
For Young Critic Devynn Vega, the CBYC program has been a supportive hand in pursuing her writing further as she enters her senior year at Rauner College Prep. Being able to speak her mind and share her writing in a comfortable environment full of likeminded women reassured her just how strong women can be together.
"It feels like an honor to be presented with all these women who encourage you to take on their legacy," Vega says. "They can teach us everything they want to teach us, but if nobody takes that step to continue on the legacy, it's kind of hard to continue something you believe or something that everybody believes in."
The CBYC program continues to foster an expressive, comfortable environment for young theater-going writers. As more classes of girls graduate the program and pursue what they love, the mission and the memories of CBYC stay with them long after the final curtain falls.
Donate to AWJ!
Make a one-time or recurring monthly donation to support AWJ today!
Connect