AWJ-Chicago Picnic—A Chopping Success!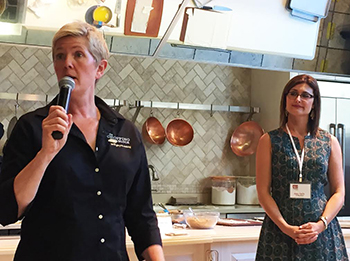 AWJ'S Annual Picnic (indoors) Really Cooked! Shelley Young, owner/founder of The Chopping Block (left), wowed nearly 70 of Chicago's top women journalists last night at her upscale cooking school and retail shop in the Merchandise Mart. And Amy Guth, AWJ-Chicago president (right), who also welcomed everyone to the large,  light and airy kitchens and gathering space, announced that the organization's virtual Hall of Fame is almost ready for public viewing and nominations.
Two chefs prepared and cooked a host of delicious appetizers and desserts on a large, open kitchen counter running the length of one wall while picnic-goers watched, sipped various wines, beers and sparkly drinks. And talked jobs, jobs, jobs, the state of the industry and family and friend news all the while.  Beside greeting old and new colleagues, party-goers offered up a  lot of generous networking. Overheard were such snippets of conversation as: "I need an intern at my nonprofit, but I'm looking for a technical, scientific type." To that need, another journo replied, "Oh, I just talked to someone who knows a few 'nerdy,' scientific types. Let me introduce you." And so it went, until the picnic was over—all too soon. 
Donate to AWJ!
Make a one-time or recurring monthly donation to support AWJ today!
News & Events
The Chopping Block not only  hosted AWJ-Chicago's smashingly successful 2015 summer picnic,  it raffled off two free cooking classes. And the winners are... 

Audio of Carol Marin's Keynote at AWJ's Annual Meeting (listen)
AWJ's 'Where We Stand' survey (pdf)