How to Win Your Election Day: A Conversation with author Rebecca Sive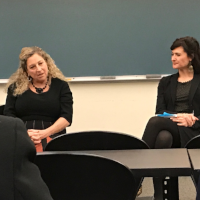 Is good leadership gendered? Rebecca Sive's point of view is that certainly is not the case.
At AWJ-Chicago's event, a Conversation with Rebecca Sive on Monday, March 20, AWJ Board President Amy Guth did a Q&A with Sive regarding lessons learned from her book, "Every Day is Election Day: A Woman's Guide to Winning Any Office, from the PTA to the White House." Sive advised women to look inside themselves and if it's what they want to do, step up and run for office.
Rebecca touched on the idea that women typically do not think to run for office at first, on the assumption that they do not know enough to run. Men, on the other hand, will run without any fear of whether they are qualified, good enough, etc. Sive urged women looking to run for office to engage a collective effort with the people around them - their support system - and to become the center of that effort.
Sive also touched on the coverage of female politicians in contrast to coverage of males; women politicians and public figures are often commented on or evaluated from a physical or wardrobe standpoint. Sive urged journalists to look beyond the surface and make sure that they are covering the real and important issues, not to ask for more coverage, but equal coverage.
Sive urged women seeking any position in the public eye to feel empowered enough to stop doubting themselves and to just go for it. The public eye is often very scrutinizing. Sive urges women to be as open as they are comfortable with being, but to know that they have no obligation to expose their vulnerabilities to the public at large.
Donate to AWJ!
Make a one-time or recurring monthly donation to support AWJ today!
Connect